THE EXTRAS
1. A BETTER ORGASM
2. A BIGGER LOAD
3. A HARDER ERECTION
4. BETTER STAMINA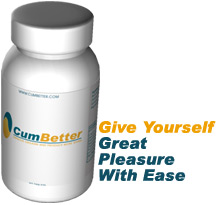 LINKS:
libido7
move2sex
Penis information

CONTACT INFORMATION:
Jobacom Pharmaceuticals
Breek 13 1671 GE
Medemblik
The Netherlands

These are the main ingredients found in Cumbetter pills. Individually they are powerful herbs that could positively influence your libido, but combined together, after years of and trial and error and intensive research we have developed the perfect product for you.

Tribulus Terrestris is considered to be one of the best herbs around. Tribulus enhances the testosterone level by stimulating the luteinizing hormone(LH) levels and LH tells your body to produce testosterone.

GingSeng is one of the legendary aphrodisiacs – its reputation has endured time and science. Gingseng contains substances that increase libido, sexual reaction and immune system over time.

Muira puama is rainforest botanical traditionally used in South America to increase sexual desire, libido and performance. Muira Puama is also known as "potency wood".

Damaina contains an essential oil which stimulates the reproductive organs, and alkaloids that increase the sensitivity of the reproductive organs. Muira PuamaIs used for its powerful aphrodisiacum and stimulating effect.
To order Cumbetter just click here!